Pirates of Penzance, tonight at the RGS.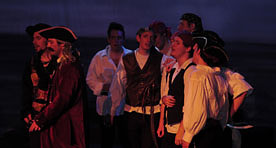 A "light-hearted play" that has "something for everyone" – that's the promise made by the co-director of Pirates of Penzance, which opens this evening at the Royal Grammar School's Performing Arts Centre.
Co-written by one of the most renowned theatrical duos in history, Pirates of Penzance tells the story of a pirate apprentice, Frederic, who having reached his 21st birthday, is able to leave his fellow teachers. He soon discovers that he is born on 29th February, meaning that he has technically only completed five birthdays and must serve for another 63 years. The plot thickens when Frederic falls in love, meets his lover's imposing father and brawls break out.
Lucy Ashton, co-director of the performance, told JesmondLocal: "The RGS has a huge stage and we're very lucky to be able to use it."
Ashton is directing alongside Anna Scott, who plays Edith in the play. When asked about the experience of such a shared role, Ashton says that "two heads have definitely been better than one". She has also acted in university plays before and says that it has been extremely interesting to be on the other side of the auditioning table.
Both directors are hoping that a healthy mix of Jesmond residents, from students to families, will be attending the performances this week.
The show opens tonight (16th February) at 7.30pm at the Performing Arts Centre (RGS) and runs until Saturday 18th February. Student, child and concession tickets are priced at £5 and general adult admission at £8. Call 079690 90030 or email nugss@newcastle.ac.uk to purchase tickets.
You can also visit http://www.societies.ncl.ac.uk/nugss/index.php for more information about Newcastle University's oldest student-run society.