What did the Victorians ever do for Jesmond?
The origins of Newcastle Cricket Club's ground in Jesmond have come to light following the discovery of a 125-year old newspaper article.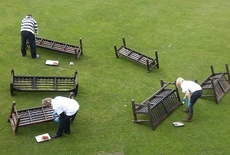 The Osborne Avenue fields became a sports ground in 1887, but the newspaper reveals how the money was raised – by a Fancy Dress Ball held at Newcastle's Assembly Rooms, when several hundred partygoers danced until 3am.
A century-and-a-quarter later, their efforts will be matched by those of scores of volunteers who will be painting rather than partying to prepare the ground for the start of its anniversary year.
And in a special link-up to mark this historic occasion, the Assembly Rooms are making and supplying Victorian biscuits to keep energy levels up.
The annual Cricketforce event takes place this Sunday (1st April). The club has a long tradition of self-help: last year's volunteers won a special award from the English Cricket Board, and it was a high-profile community campaign over two years from 2004 which helped saved the historic ground from closure. The club has also just completed a £150,000 refurbishment including a new accessible ground entrance.
Cricketforce takes place from 10.30am on Sunday, and the club says volunteers are welcome to drop in until 3.30pm. They'll be treated to lunch and a facepainter is on hand plus a chance to play with a new catching machine funded by Sport England.
This follows a prep day tomorrow (Friday 30th March) when volunteers will tackle the "Everest" of the ground, the biggest boundary fence, to scrape off the old paint and add undercoat.
And on Saturday (31st March), members of the Junior WASPS will visit the Assembly Rooms at 1.30pm to collect their specially-made snacks from the chef.