Graze on local delights at Tennis Club's spring festival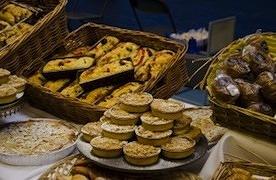 Racquets will make way for snackettes at the Northumberland Club on 7 May as the tennis and squash club hosts its seasonal celebration of food: the Spring Graze.
So far, up to 35 stalls are booked in for the event, which will be take place both inside and outside the building.
Following the success of last year's Autumn Graze, all stalls will be food and drink based, filling the tennis club with café-style seating areas, children's colouring areas, a raffle, music and decorations. Names already signed up to the Spring Graze include Ringtons Tea, Carruthers and Kent, Deli Fina, The Broad Chare pub, Cuddy Duck Chocolates, The Feathers Pub, The Ouseburn Coffee Company, Olive Tree Charcuterie, Dough Works fresh bread, Consett Popcorn, Storm Tea, Tyne Bank Brewery, and Pet Lamb Patisserie.
The idea behind the Spring Graze is to bring together small regional producers and suppliers for a day, helping to raise their profile and show the community what is really being grown, baked, cooked, and preserved around them. The Autumn Graze saw over a thousand people through the doors and the Spring Graze is hoping to follow in its success.
Food blogger Anna Hedworth, who is organising the event, said: "The Spring Graze is a great way to really celebrate the local suppliers and their produce and really show the community what good quality food and drink is available to them locally."
In addition to writing about food and working as a designer at xsite architecture in Newcastle, Hedworth also grows her own produce and is hoping to develop her own range of charcuterie, pickles and pies in the future.