Volunteers get a taste of Jesmond Dene
Volunteers have spent a morning helping out in the Jesmond Dene nature pond area, across the river from Pets' Corner, as part of the Jesmond Community Festival.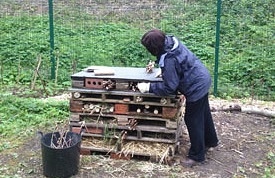 Sarah Capes, Jesmond Dene ranger and organiser of this taster session, told JesmondLocal that the idea behind this activity is to encourage more volunteers to get involved with preserving and protecting the Dene.
Earlier this month, 60 volunteers attended a pond dipping session.
Volunteers from different backgrounds and ages provide their services on a regular basis at Jesmond Dene, as well as the other four Ouseburn parks.
But the summer months see the highest frequency of volunteer participation from local residents and students.
Capes told JesmondLocal: "This project benefits the community and school groups, and fosters community ties. Working with the volunteers has been so satisfying. It's one of the best parts of this job.
"I hope more events like this are going to take place and that they can be more accessible to the public."
Watch our video of the event: