Central High attempt to break world record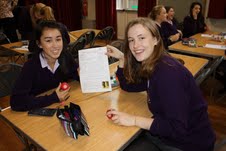 100 girls from Central Newcastle High School took part in an attempt to break a world record in science last Tuesday morning.
They gathered together to drop beanbags and measure pendulum swings, as part of what they hoped would be the biggest practical science lesson in multiple venues. To be successful they needed 1000 girls in 25 venues carrying out 2 'hands on' experiments at the same time.
The girls took part alongside over 2000 pupils from the Girls' Day School Trust (GDST) to mark the 140th anniversary of the trust.
Central High head teacher Hilary French said: "We've been planning this record attempt to mark our anniversary for months. The most disturbing statistic from the Institute of Physics' recent report was that nearly half of all co-ed maintained schools in England do not send even one girl on to do physics at A-level.''
She hopes the experiment will encourage more girls to keep studying science to A Level and beyond. The girls also met Jane Atkinson, the first woman to run a blast furnace.
Zoya Zayman, 14 years old from Gosforth said:
''I'm so excited to be part of this and I can't wait to see us in the Guinness Book of World Records."
All the schools are waiting for their attempt to be approved by Guinness World Records.