Crime, licensing and library hot topics at ward meeting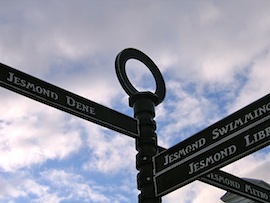 The future of Jesmond Library, a fall in crime and a late licence application for an Osborne Road hotel were on the agenda at the North Jesmond ward committee meeting at St Hilda's Church Hall on Wednesday 14th November at 18.30.
Councillors Catherine Pagan and Peter Andras were in attendance with Councillor Peter Beakey sending his apologies.
Police report
Crime figures were given for the area by Inspector Louise Cass-Williams. She said that there had been a 31.1% fall in crime compared to same five week period last year.
Inspector Cass-Williams highlighted the thefts of pedal cycles and recommended residents buy D-locks and said that two student houses have the highest form of warning against them (known as a section 80) for anti-social behaviour. Residents mentioned getting more bike locking areas around Brentwood and Acorn and their concerns about students not having lights on bikes and wearing dark clothing.
To support Operation Oak the ward approved £5,333.33 of funding to support 2 officers throughout the year to patrol and help with anti-social behaviour.
CCTV
Paul Angus from the City Council's Community Safety Unit reported that the ward has one camera and access to four others and that the CCTV control room in the Civic Centre has the ability to communicate between the operators and the police.
He said that of 11 incidents in both North and South Jesmond, four crimes spotted by CCTV were in North Jesmond. Two of these were for anti-social behaviour, one was for assault and one was for affray with four people charged.
Council licensing
Jonathan Bryce, the team manager for licensing with Regulatory Services and Public Protection, gave an update on licensing matters. He said that the Northumbria Hotel has entered a petition to be open to 1am, but Bryce said that environmental officers will oppose the application, having recently prevented two other establishments (the Kenilworth Hotel and NU Bar) extending their opening hours to the same time.
Residents also asked Bryce about establishments on Osborne Road taking responsibility for broken glass especially as some of them hose the glass off the pavement and onto the road around a bus stop. Bryce said that the bars are not legally responsible for pavements but that they should have a concern for their condition. He added that it could be that measures surrounding this could be brought in when rental agreements/licensing agreements come up for review.
West Jesmond Primary EcoSchool Group
Representatives from the school's group attended the meeting to ask for funding for a flag pole. The children's group helps pick up litter, takes part in composting, has an allotment garden and encourages eating well at the school and in the community. As a reward for their efforts the group has been given an International EcoSchool green flag, held by only 716 other schools in the UK. Funding was approved by the ward councillors for £218 to buy a flag pole.
La Sagesse site
Councillor Andras reported that a revised planning application has been submitted with Council officials expecting it to come before the planning committee around the 12th December.
Jesmond Community Festival
Roughly 60 organisations are involved in this annual celebration of life and community in Jesmond. Next year the festival will run from the 11th to the 25th of May. A JCF representative attended the Ward meeting and asked for £3,200 from the ward funds to support the event. Funding was approved by Cllrs Andras and Pagan
Acorn Road Improvement Group
A representative from this group asked the ward for funding for a study to better understand pedestrian access to Acorn Road. The study will cost £1,000 with the group hoping North and South Jesmond wards could contribute £500 each. Funding for the survey was approved after some debate.
Jesmond Library
The future of Jesmond Library was raised when the councillors asked for matters of local concern. The councillors emphasised that despite recent reports in the local media they don't know what is going to happen, Cllr Andras saying, "There is no clear information on what is actually going to happen."
Jesmond Community Leisure had organised to partner with Jesmond Library to run events like book readings and IT training days but now they could be in doubt. There will be a meeting between JCL and council representatives on the future of the library in the next few days. Residents at the ward meeting said that they feel like they haven't been consulted and would want a public meeting about any closures, especially regarding the library.
The next meeting of the North Jesmond ward committee will be on Wednesday the 16th January 2013 at St Hilda's Church Hall on Thornleigh Road.
Apologies to South Jesmond residents, whose latest ward committee meeting has not been covered by JesmondLocal. Our reporter was unable to attend due to illness.