Tom Kelly of the "Holy City of Jarrow" brings his poetry to Jesmond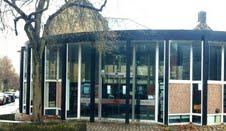 Poet Tom Kelly spiced up a cold autumnal evening on Monday for his audience in Jesmond Library, with readings from his new poetry collection as part of the Newcastle Winter Book Festival.
The free event began on the 19 November at 6:30pm and the many poetry enthusiasts who arrived early were offered refreshments in the community room by welcoming librarians.
The event was well attended, creating a good atmosphere and a warm round of applause to welcome the poet.  Sheila Wakefield, Tom's publisher from Red Squirrel Press commented on "the good turnout", whilst the poet afterwards talked of the "really nice audience" here in Jesmond.
The hour flew by with Tom reading various poems from his past and more recent collections, which have been compiled to form his new book , The Time Office: New and Selected Poems.
Tom handed round copies to allow listeners to follow, and the audience had a chance to buy signed editions of the book for a discounted price of £6 rather than £7.
The reading included poems such as 'The Wrong Jarrow' and 'The Times Office 1965' amongst others which Tom brought to life with his animated performance of the Geordie voices of the characters.
Listen to some of his readings here:
The poet kept the audience engaged and laughing between the readings with the stories of the inspiration behind his poems, especially those revolving around what he described with a chuckle as the "holy city of Jarrow" where he grew up.
The event had drawn many guests who hadn't been to events at the library before, including Chris Trippet, who "liked it enormously", finding the context offered behind the poems at the reading "really helpful". He said afterwards he "couldn't not buy the book", despite never having read Tom's poetry before the evening.
The reading was a free event as part of the Newcastle Winter Book Festival. Founded in 2010, the November event aims to create a platform for North East writers to celebrate the culture within this region and inspire people to read.
Tom said he was pleased to be part of the festival for the 3rd year, although he has not appeared in Jesmond previously. Unfortunately many events in the festival had to be cancelled this year, due to the current economic climate and a lack of ticket sales.
Luckily, however, this poetry event took place successfully and was an enjoyable evening for all. Click here for other events in the festival over the 22-25 Novemeber.