Insurance premiums up in Jesmond due to floods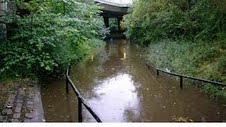 Insurance premiums are rising in Jesmond as residents recover from one of the wettest summers since records began.
Locals are concerned at being priced out by insurance companies, as some are forced to buy non-returnable values just to be considered for a policy.
At a public meeting on Tuesday, Newcastle City Council said it would do all it can to help residents with insurance queries and advised them to contact the National Flood Forum.
Northumbrian Water's Linzie Pentleton said that when the company began to clear the sewers, they found several blockages. Concrete had been poured into a sewer on Osbourne Road, affecting its capacity. On Clayton Road, cameras were sent down the sewer and discovered 40% of the tunnel's capacity was blocked by fallen branches.
Northumbrian Water added that 51 properties had reported flood damage in the Jesmond area and they had set up a special project team to deal with flooding across the city.
The council said it was working with neighbourhood manager John Welford to clear culverts and gullies to reduce the flood risk. Welford proposed a scheme to remove cars from streets to allow teams to clear gutters and culverts blocked by falling leaves and rubbish. South Jesmond councillor warned that neighbouring streets would suffer with  the extra volume of parked vehicles.
One resident questioned whether there was a subsidy for installing flood defences. The council said nothing was available at the moment, but the Environment Agency could provide funds from April 2014.
Another resident raised the problem of absent landlords and reported suffering flood damage from a neighbouring house whose landlord was uncontactable. Newcastle City Council said they would look into any similar issues.
Northumbrian Water has vowed to respond to every customer who reported a flood to examine the issue further. They aim to complete their investigation by the end of the year.
Contact National Flood Forum here or call on 01299 403055