Viz funny man Simon Donald to host charity gig at As You Like It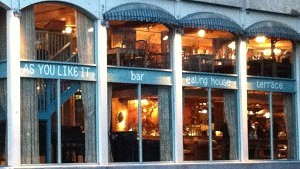 As You Like It, Jesmond, is set to host a night of acoustic music and comedy presented by Viz founder Simon Donald,  this Thursday 15th November at 8pm, to raise funds for Dyslexia North East.
A number of acts will deliver acoustic performances during the night, including Lindisfarne legends Billy Mitchell and Ray Laidlaw.
The Who tribute band the Whodlums will also be playing, along with Rebecca Tomkinson and Iain Anderson plus special guests.
Simon Donald – the comedian  and co-founder of the Viz Comic, which was run here in Jesmond until the beginning of the millennium – will provide comedy with guests during the evening, as well as a raffle and auction.
The comedian is the main organiser of the event and has a close connection with the charity.
Diagnosed with dyslexia at the late age of forty, Donald understands the importance of the work of Dyslexia North East.
He said:  "We need to raise not just awareness, but funds for the charity, for people who cannot afford the assessment needed to get aid and tuition."
This is the first fundraiser Simon has been involved in and he was delighted when asked to be patron of the charity last December, so he could help people deal with the problems he faced himself.
Dyslexia North East was formed in November 2005, by a group of teachers and parents to help support those affected by dyslexia and related conditions. The director of the charity, Liz Ferguson, encouraged people to "come enjoy yourself" at the gig, describing the event as "a lot of fun and a good entertainment night."
The fundraiser is intended as adult entertainment and will begin at 8pm (doors open at 7pm) at As You Like It on 15th November. For tickets, follow this link.
Advance tickets will be £10 with a £1 booking fee online, or £12 on the door.