Homecoming for Jesmond Dene House's new General Manager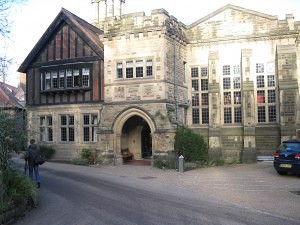 Scott Davidson took over as the new General Manager of Jesmond Dene House back in September, after the hotel approached him earlier this year.
Replacing Eric Kortenbach, who ran the hotel since its opening seven years ago, Davidson says he aims to maintain the venue's high standards.
Having "admired Jesmond Dene House from afar", he told JesmondLocal it was "certainly nice" for him to come back to the North East.
Davidson has spent twenty-two years in the hotel industry. Starting as an apprentice at London's Savoy Hotel, he  then worked at the Vermont and County Hotels in Newcastle City Centre. He helped Darlington's Bannatyne Hotel achieve its four-star status earlier this year, and led Teesside's Wynyard Hall to the same accolade in 2010.
Born and bred in Gosforth, he has now returned to his Newcastle roots.
Davidson told us the hotel's reputation as an exclusive venue was not the image he wanted to uphold.
"Many people think that we are exclusive. We are not at all," he said.
With a bar menu on offer, he argued Jesmond Dene House was "accessible to all" and "open to the general public." The hotel offers a selection of menus for both lunchtime and evening, including a three course menu for twenty-eight pounds.
Davidson does not believe that Jesmond Dene House's hotel status should prevent the public from "stopping by for a coffee."
He told us the hotel has experienced its "best year ever thanks to repeat visitors", in spite of the economic crisis. But he does admit the hotel has had to "realign to become more accessible", by offering an affordable range of food and drink.
Nevertheless, he sees his new position as the "start of a new challenge" and is ready to "reenergise the team to move forward with business".
The hotel has recently won the César City Hotel of the Year 2013, awarded by the Good Hotel Guide and voted for by guests.
With potential plans for a spa and other leisure facilities, Jesmond Dene House looks set to widen its scope as much as possible in this harsh economic climate.