St Hilda's Sparkles in Christmas tree contest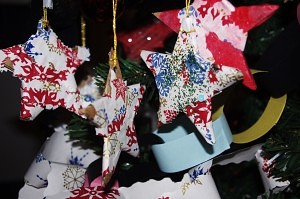 St Hilda's church glittered with the sights of Christmas last Saturday, as the venue hosted its annual decorated tree competition.
An environmentally friendly effort by West Jesmond Primary School and a winter-themed entry took home the group and individual prizes respectively.
The trees, decorated in a variety of imaginative themes, were put forward by individuals, families, community groups, schools and local businesses.
Ideas ranged from a traditional style to the more creative. 'On the first day of Christmas Tree' featured pears dangling precariously and a partridge perched on the top, while a tree dressed in a white coat with glasses and a stethoscope was named 'Tree surgeon'.
Some entries were politically themed, including a tree hinting at the recent budget cuts and another acknowledging World Aids Day.
Visitors voted for their favourite tree, picking from two categories: group and individual. The winners were announced at the Carol Service in the evening of the festival.
First place in the group category was 'Christmas Treduce, Treuse and Trecycle', a large tree made from recycled materials by Ecogroup West Jesmond Primary School, while in second place was a racing-themed 'Aintree', by The Tour Guides. The Jesmond Policing Team produced a single decorated 'Special Branch', which came third.
In the individual contest, 'Wintree' sponsored by June Parry came first. In second place was 'Beach Tree' by Jamie and Jem and in third place 'Rowntree' sponsored by Jane Young.
A special prize of recognition was also given to 'Tree Surgeon' by Jesmond Pool.
The winners received prizes donated by local businesses including restaurants, hotels and shops.
Organiser Lesley Dinning said of West Jesmond Primary School's group winner: "In contrast with 'Special Branch' this one was one of the biggest [trees], but put together with plastic bags and cartons. A work of art by the children and a worthy winner."
This first prize follows their recent achievement of Ecoschool Green Flag status.
The huge variety and high standard of the trees made choosing the winners a difficult task. Plans are afoot to increase the number of categories for next year, so more votes for different trees will be accepted.
The Festival started four years ago as a one off, and was so popular it is now an annual event. This year it generated a huge interest from the public and saw a brilliant response from the community with the quantity and the quality of entries.
Lesley Dinning told JesmondLocal: "The Festival of Decorated Trees was even better than last year. We had 42 entries and every one of them was different and interesting."