Jesmond interior design company to take on Blundell House
A local interior design firm based in Jesmond has gained rights to aid the transformation of Newcastle's Blundell House into an 80 bedroom hotel.
The former John Blundell department store, which has stood empty on Newcastle's Clayton Street for 25 years, has been bought by Trafalgar Leisure Ltd and Dakota House of Design has been appointed to help refurbish the hotel's interior.
Peter Hodgson, who owns Dakota and runs the Jesmond branch, stated that there had been interest from a number of franchises, and that it was "likely to be a four star hotel", judging from the calibre of current interest.
Hodgson has helped run Dakota for five years, and the company has branches in Nottingham, Majorca and Dubai. Jesmond is the firm's pioneer branch, which has a workforce of 10, including an architect, an illustrator and 8 designers.
He told JesmondLocal that "it takes somebody with balls to take on Blundell House" and that he isn't surprised it has been empty for so long. "It's in the wrong location for a department store now, and it would be difficult to change the building to residential use. A hotel is one of the only viable options".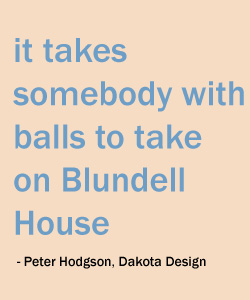 The project, which is looking to develop the site into a hotel of medium-sized, perhaps boutique-style bedrooms, has faced opposition from a number of hotels close to the site, concerned about too much supply for too little demand. Nonetheless, Hodgson insists that this opposition to a new development is "natural" and is to be expected for any new business entering a popular market.
The building is currently mostly empty, with the lifts and their shafts the only features reminiscent of the old department store. Hodgson did state, however, that there is bare brickwork and "lovely floors" which the redevelopment team will seek to take advantage of during the renovation.
Hodgson, originally from the West End of Newcastle, has helped transform Dakota into a recognised firm, having helped design London casinos, and various hotels around the world. Despite this, Hodgson, who also owns jewellery chain Cuba Lily, with bases in Darlington, Durham and at Newcastle Airport, stated "It's nice to get a project in your own city – it's not something we get very often".
With plans still in the pipeline, it is uncertain which route Blundell House's overhaul will take.