Less funny or no money?
On Friday 15th March the most comical of charity days was celebrated: Comic Relief. It seems that the credit crunch and a looming triple-dip recession have stymied our charitable spirit, though. JesmondLocal's survey of local businesses found that the only shop sporting Comic Relief stock was Oxfam on Acorn Road. On our visit it was brimming with red noses, hair bands and wrist bands.
The surfeit of stock indicated that the locals of Jesmond were not thrilled by the charitable push. John Christian, the manager of the local Oxfam branch claimed that "in previous years I would have had the phone ringing off the hook with keen customers asking for red noses. This year I'm left with a box full of them and a silent phone."
So are the locals of Jesmond finally feeling the pinch of this almighty credit crunch? The stock in Oxfam claimed prime position in the window and next to the till. With it being so hard to miss the only explanation for the abundance of stock must be that the punters clearly could easily resist it.  But why has it been so different this year?
The Oxfam in Durham ordered in double the amount of Comic Relief stock as Jesmond, according to Christian, suggesting more optimism in their customers' need for red noses. In Jesmond 22-year old local George Leylabi commented that he "wasn't even aware of the charity event. It just seems to have suddenly crept up on us all." He went on: "there hasn't been much advertising around Jesmond that I have noticed."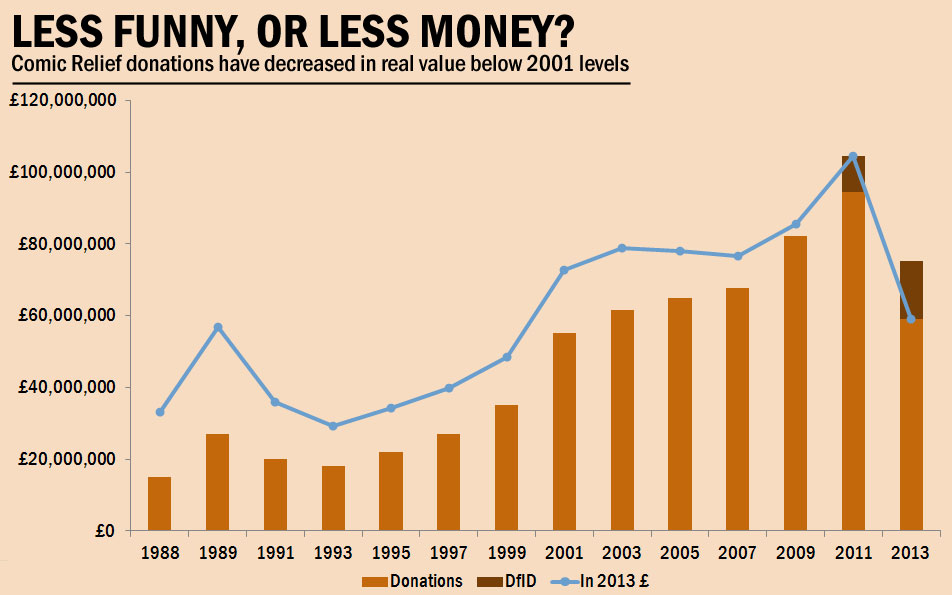 The biennial national Red Nose Day was successful, raising a total of £75m on the night. This is claimed as a record for single-day donations (the 2011 figure of £104m in our graph above includes cash raised in the weeks and months following the event), but as our analysis shows, in real terms the amount donated to charity has dropped.
This year's £75m includes a £16m pledge from the government's Department for International Development to match an equal amount of public donations (last year, government matched £10m-worth of solicited money). Excluding that government donation, the public raised just over £59m – an admirable amount, but demonstrating the squeeze the general public are feeling in these tough economic times, Jesmond included.