Delicious Decadence opens in Jesmond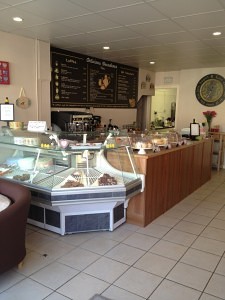 Whether it's a light bite or the densest, thickest and moistest-looking slice of chocolate cake in town that you're after, Kate Appleby, the owner of a new coffee shop in Jesmond, insists that there's nowhere else that's quite the same as her business.
Tucked up in High West Jesmond, Delicious Decadence opened in February this year on the site of the former Tavasso delicatessen and markets itself as a coffee shop and bakery. Kate and her team make all the food sold at the shop daily, and she claims that the freshness of the produce is what sets her apart from other coffee houses in the area. "Apart from the chains like Starbucks and Costa in Jesmond and Gosforth, there's not really anywhere around here that's like us. I think I'm quite unique," she says.
Kate is a former pupil of Jesmond's Central Newcastle High School and RGS, and claims that she's had no commercial baking experience: "it's just passed on skills really, I haven't actively had any training." The coffee shop, which Kate tells JesmondLocal attracts more local families and pensioners than it does students, is located on Newlands Road, close to Ilford Road Metro Station. "We have a really laid back atmosphere," she explains, "and I like to get to know the customers – we already have quite few returning customers."
The 22-year old St. Andrews University graduate only saw that the unit was for sale in July of last year, and it wasn't until December that she was handed the keys. "It's always what I wanted," Kate tells JesmondLocal. "It's so great to finally see it up and running." Kate, who was involved in a serious car accident in 2005, used the compensation money from the accident to fulfil her dream and buy herself a site for her business venture. "I believe life's too short to not do what you want – I've achieved so much since my car accident."
However, it's not just the single site at Newlands Road that Kate has scope for. "I would like more than one – what I'd really love is an American Diner, but I'd be more comfortable in a bakery setting so a more managerial role within that business would be ideal. A chain with individuality is what I would like."
The coffee shop also sells hot breakfasts and lunches, and is open every day except Mondays.