Beginner's Jewellery Workshop Deemed a Success
Craft enthusiasts from all over the North East gathered at Jesmond Library this past weekend to participate in a beginner's jewellery workshop.
The event, which took place on Saturday April 20th, invited guests to make three pieces of unique jewellery, with the expert help of Alice Thompson and her mother.
JesmondLocal reported last month that Thompson, who works as a physiotherapist during the week, set up her company Jewellery Moments after friends and family expressed interest in her unique pieces. She had decided to run the workshop to give others the chance to have their own 'jewellery moment' and create something special.
The afternoon started with a quick briefing session, which explained the techniques and equipment that everybody would be using. Once everyone was comfortable, they were invited to pick a bracelet to create from a selection, with each piece being ranked in difficulty from 1–5 stars. With the guests mostly beginners, the most popular starting 'star' collectively was two out of five.
The making of the bracelets was surprisingly easy, with everyone's creations being successful and completed under half an hour. Thompson was kind enough to let me have a go at creating my own Coral Reef bracelet (below right).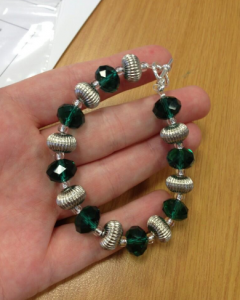 Confident from the success of the bracelet, certain guests chose to step up the difficulty level to 4 or 5 stars – there was a sense of concentration in the room as everyone wanted to make the best piece of jewellery they could! Although the earrings were more challenging than the previous bracelets, everyone managed to create a successful pair.
After a short break indulging on homemade cakes as well as tea and coffee, everybody started on making their necklaces. Those who had hovered on 2 star difficulty level now had the chance to put everything they had learned towards a more challenging piece to finish off, as all necklaces had a rating of 3 or above.
Whilst most people's final pieces were successful, one guest discovered a small bead-sized gap in her level 5 bracelet. Thompson, showing a desire for her work to be nothing short of flawless, decided that the bracelet needed to be redone, and so offered her assistance in perfecting it.
The end of the workshop was a time for the guests to reflect on their experience with Jewellery Moments, with everybody writing positive comments in the guestbook. One guest in particular summed up everyone's feelings about the day: "I've had a lovely, relaxing afternoon. I really feel as though I have achieved something and had lots of fun."
The workshop was the first that Thompson had held, and afterwards she expressed her enthusiasm at the possibility of extending her company even further. "I'd like to start hosting jewellery making parties," she explained. "But I'll still continue selling my products on my website and at craft fairs around the North East."
For those of you who missed out on the beginner's workshop, there will be a chance to participate in the future. Thompson added, "This was the first workshop but I'd definitely do it again, it's been a great day."
Visit http://www.jewellery-moments.co.uk/ for more information