#HousingHorror: How much notice is needed to enter a property?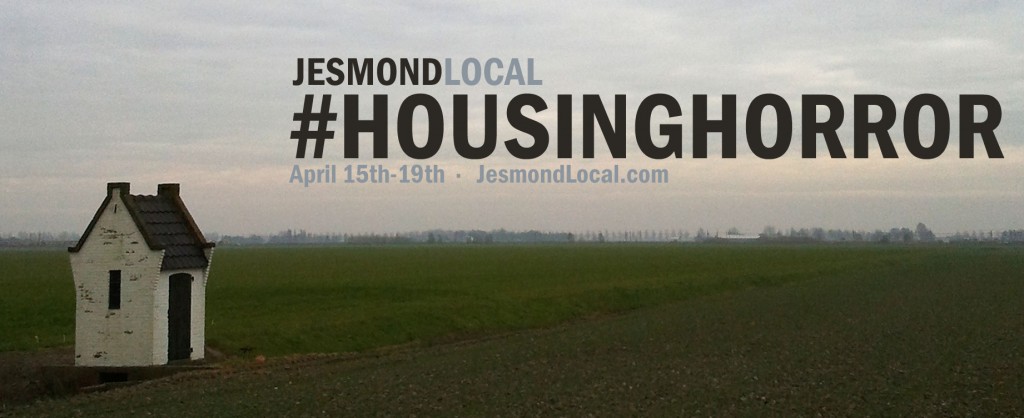 Both spring term, now long gone, and summer term, fast approaching, see a number of important events on the student timetable: revision, exams and results take over student lives. Another issue that impinges on crucial study time is the annual hunt for accommodation. This time of year, many students are opening their houses and living spaces to perfect strangers, all trying to find a place to live for the new academic year. But is everyone being treated fairly?
Back in November, when the process was just beginning, I was alarmed to find a stranger letting himself into my house with a set of keys. Had I been home alone, I would have been terrified. After racing to the front door to confront him, my housemates and I were informed that he was from a Jesmond-based letting agency (myuniacommodation.com) and had a viewing of the property scheduled.
Unable to show us his ID and having given us no prior notice of this appointment, we were suspicious. Referencing our tenancy agreement, we asked him to come back another day when we had given him permission to do so. He promised us that the landlord had allowed him access to the property when he gave him keys but we stood our ground.
In a lengthy statement, Andrew Pellegrino of Myuniaccommodation.com said that his company "always give tenants at least 24 hours notice [prior to a viewing]. It is imperative for us that the tenants trust us and know we respect their privacy and their home.

"Our office manager posted a hand delivered letter through the letterbox informing [the inhabitants of the house] of the viewing" before visiting. Myuniaccommodation also point out that earlier this year they "received a letter from a tenant at [another property] singing [the agent dealing with the property in question's] praises," and add that "this may appear relatively insignificant but it's not usually the top of a student to do list."
They can "understand how frustrating it is for the current tenants having so much interest over a few months by a number of agents and prospective tenants, when all they want is for the property to be filled quickly and to be left alone." Since the incident, Myuniaccommodation has instigated a new system of notice, which includes texting tenants in this particular property via a company mobile so that "we would have proof in the itemised bill should there be any doubt regarding our viewings notifications." Otherwise, Pellegrino points out, "it can be difficult for tenants to keep track of who is or isn't providing the correct notice and ultimately entering their home."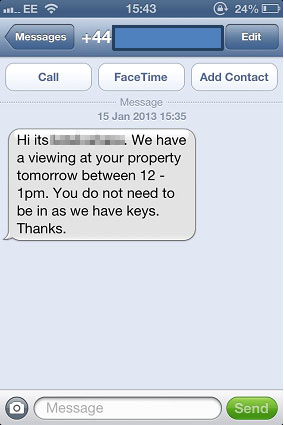 A common occurrence?
Canvassing opinions, JesmondLocal has found these scenarios to be commonplace. It seems that some letting agents are good at giving plenty of notice about when they'll be visiting with prospective new tenants; some are not. A few weeks later, I received the following text message from an unknown mobile number:
I wasn't best pleased. I've never heard of the company, Lets Live Here, I didn't give them my phone number and I certainly didn't realise they had keys to the house I'm living and sleeping in. According to our tenancy agreement, any third party is supposed to give us over 24 hours' notice before they visit. This had been breached in this instance, and it wasn't the only occasion. Often, my housemates and I receive texts late in the evening informing us of viewings happening the following morning.
Becky Naylor, manager of Lets Live Here told JesmondLocal that "as an agency that specialises in student lettings and management, we pride ourselves on providing excellent customer service. As such, we always notify all tenants of viewings at least the day before. This coincides with a clause from our tenancy agreement which states [that]: 'to permit the landlord or any person authorised by the landlord or the landlord's agent, at reasonable hours in daytime to enter and view the property with prospective tenants or purchasers, having first given the tenant a reasonable period of notice.'"
Regarding the way in which I was contacted, Lets Live Here said that "notice of viewings is given by way of text message to all named tenants as we find that this is the easiest and most reliable way of all tenants being informed. At the latest, this happens by late afternoon on the day before the viewing is due to take place."
They stress that "we would never turn up to a property without some kind of prior notification. However, we do rely heavily on contact details being up to date so we always recommend that tenants notify us of a change in mobile number or email address.
"If a tenant ever felt that the notice period was not sufficient for their particular circumstances, we would welcome them to contact our office and speak to a member of staff. We know how important it is for tenants to be aware of their agency coming round, particularly for viewings, and we adopt a very strict approach to this procedure. After all, we know it is their home, we want them to be comfortable whilst living there and have quiet enjoyment whilst tenants."
The flip side of the coin
I've also had the displeasure of witnessing an analogous situation from the other side, as a prospective tenant.
On a Wednesday afternoon off from university my housemates and I went along to an appointment made with yet another agency. Stood behind the letting agent, we were met on the doorstep by an assembly of angry faces, which felt strangely familiar.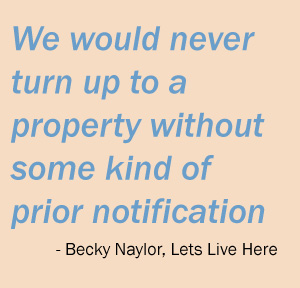 After a nervous letting agent insisted we were there for a booked house viewing, one of the tenants revealed that that particular house wasn't up for let; they were only second year students and weren't planning on moving out next year. Only then came the confession that we didn't have keys for the actual house up for let (the one next door) but because this one was identical in layout and owned by the same landlord, we'd see everything we needed by looking round here instead, as long as the girls didn't mind.
Of course they did! Wouldn't anyone? And anyway, apart from this being an invasion of their privacy it was a pointless exercise for us. Just because this one looked clean and tidy didn't guarantee there wasn't a hypothetical hole in the wall, mould or rat problem next door!
Fortunately, my house was eventually signed recently. So, for now, the interruptions have subsided for me. But there will be plenty of disgruntled students in Jesmond still struggling with the often contradictory and complicated advice provided by letting agencies.
This week, and in the coming weeks, we will be looking at several students' similar experiences, outlining your consumer rights, and explaining letting agents' practices in line with national regulations. But we want to hear from you, too.
Have you had nightmare house viewings, or worse? Do you think that letting agents treat students a certain way because they can get away with it? Comment below, email us at editor@jesmondlocal.com, send us a message on Facebook, or tweet us your experiences @JesmondLocal, using the #HousingHorror hashtag.