#HousingHorror: Former university Community Officer speaks out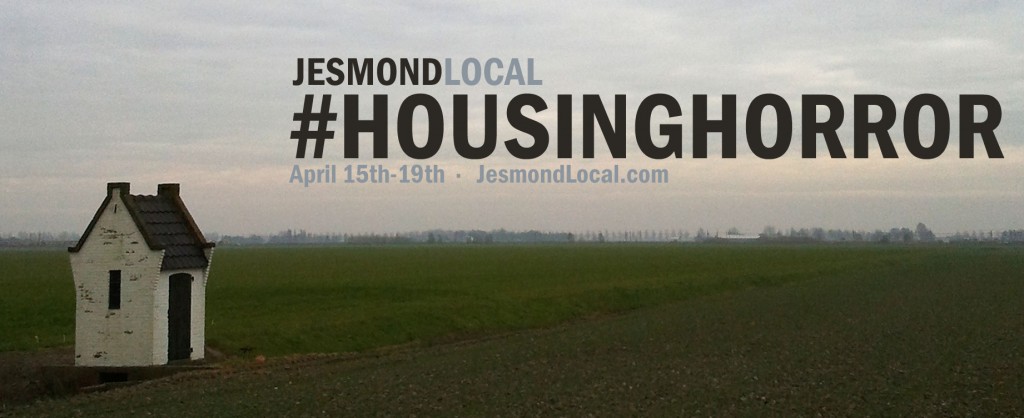 As Newcastle University Community Officer from 2011-2012, Sarah Hodgson would deal with students' problems in the community on a day-to-day basis. She therefore likely felt she would be immune from the housing difficulties that some students seem to face on an annual basis. Not so.
"One day me and my two housemates were in our house and found letting agents from Welcome Homes showing around a group of students," Hodgson recalls. "We didn't know these people and I was quite alarmed that they were in our house. When I challenged the agent he apologised and rang their office to see if we had been sent a message about the viewing. He then told us that we had all apparently been sent texts." Hodgson added that "none of us had ever received any texts".
Hodgson explains that this happened a number of times before any improvement was made. "Eventually they began to let us know, but often we would only get a few hours notice – on one occasion we were given 30 minutes notice!"
Not only can this be a real disruption to daily routine, especially during an important time like the exam period, but it can also make people concerned for their safety. Hodgson continues:
"A month or so down the line I arrived home to find our burglar alarm was going off. I was on my own and all our doors were still locked, so I was quite worried. I was close to calling the police, just in case there was still an intruder in there, but I decided to unlock the door to check everything out. Luckily, nobody was in the house so I shut off the burglar alarm. I then remembered that we had received notification of a viewing that happened a couple of hours before. So we assumed that the letting agent had not reset the alarm properly when leaving – and we let the issue go."
This happened a number of times, and looking back Hodgson reflects that she didn't realise how much danger she and her housemates could have been in. "[As] the alarm was going off we always assumed that it was the letting agent. When in fact looking back – it could have actually been someone in our house who could have harmed us if we had walked in on them. We could have put ourselves in danger."

The story worsens when Sarah tells us of what happened when she tried to complain about the letting agents' behaviour.
"It got to the stage where I was sick of this happening and I decided to visit the letting agent in person to complain. I got to the letting agent and introduced myself [when] the agent stopped me and asked me not to complain or shout at her because it was her birthday!
"She obviously was not bothered and just wanted to get me out of the office as soon as possible. At this stage I told her I knew my rights as I was the Community Officer for Newcastle Uni Students' Union and worked closely with housing officials. I told her that I was thinking about making an official complaint and also going to our student newspaper.
"Whether or not this was intentional I do not know, but it felt as though she tried to threaten me. She told me that I needed to be careful of what I said to the press because I would get kicked out of university for taking the story to a newspaper."
JesmondLocal asked Welcome Homes about Hodgson's experience. Ashley Young of the company told us that "Welcome Homes do operate within the membership of the Property Ombudsman and Anti-Money Laundering Schemes to which we are members.
"Our policy is that when a potential tenant wants to view a property we always want to agree a viewing at a time which suits them however, the potential tenant is always told that the viewing will be confirmed after we have contacted the current tenant as we have to give 24 hours notice to the existing tenant.
"With regards to burglar alarms going off and being reset," Young is "not aware of any example of this happening."
Welcome Homes referred JesmondLocal to their website — particularly the referral page — "which will show you many referrals from landlords and tenants this should give you an indication of the care and level of service which we operate at Welcome Homes."
The broader question to ask here seems to be: are letting agents doing what they think they can get away with, and not always what is legal? Are students getting a raw deal due to their perceived lack of experience on the housing market?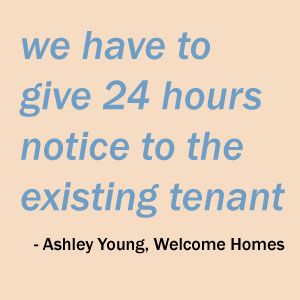 Hodgson thinks so. "They felt as though we would not know our rights as a tenant and I feel like they took advantage of that. I feel that we were never made a priority – perhaps they thought that a student would not take the time to follow everything up and eventually get bored of trying to sort it out.
"Often, students do not look into their rights as a tenant until they come across a problem. If students were more aware of their rights before problems arose, they would put themselves in a better position – and may be able to stop the problem becoming serious."
Hodgson is wiser for the experience. "I would strongly advise to make sure you ask around about agents and landlords," she explains, "and visit a few agents before making a decision. I would even advise if you can taking other people with you – even your parents. My parents offered to come house hunting with me but I turned them down as I thought I could do it all on my own, but looking back wish I had taken their offer. Most importantly though I think it is important that students do stand up for themselves and don't let agents fob you off."
Can you empathise with Sarah's story? Or maybe you have worse to report? Get involved and get in touch with JesmondLocal. Comment below, email us at editor@jesmondlocal.com, send us a message on Facebook, or tweet us your experiences @JesmondLocal, using the #HousingHorror hashtag.