Councillors approve initial road changes in local bike plan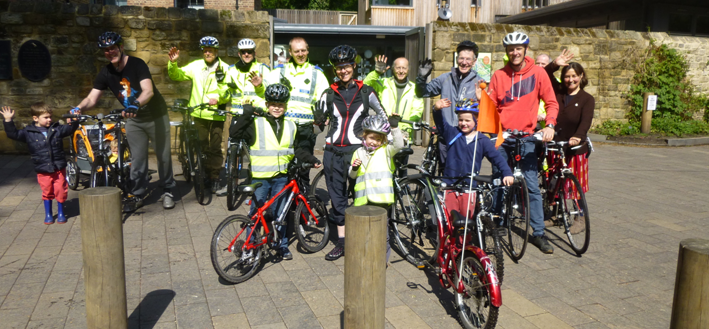 Councillors have agreed to support a local cycling group's plans to improve facilities for bike riders in the area.
Jesmond Safe Cycling say their recommendations would allow people on bikes to cycle safely in residential areas and around schools, as well as help reduce congestion and pollution. Changes agreed by the councilors include a cycle lane on Osborne Road and two speed bumps on Forsyth Road, while the council will also consult on introducing a 20mph speed limit for the whole length of Osborne Rd.
David Hardman, a councillor for South Jesmond, said, "we all want to see more people cycling in Jesmond but on safe roads and where possible away from pavements. These plans are just a few little steps in the right direction and will help create the kind of Jesmond we all want to live in."
Peter Breakey, a councillor for North Jesmond, said "many people are working hard to make it easier to cycle in Jesmond. These changes should be a step in the right direction and I hope that more can be done in the future."
Jesmond Safe Cycling welcomed the moves to keep cyclists safe, citing a recent family bike-ride along Forsyth Rd and Osborne Rd which required a police presence due to heavy traffic.
The group's chair, Tony Waterston, commented that "we are delighted that some improvements will start this year and hope this will be the beginning of a continuous programme of making Jesmond cycle-friendly for everyone." Residents of Jesmond have reacted positively to the proposals.
Julie Sengupta, 48, of Queen's Terrace, said that she had no problem with the bike lane proposals. "My only worry," she said, "is that Osborne Road will become less car-friendly. It can get very busy and the drivers will need to get through and not be blocked by cyclists."
Jesmond resident Peter MacHugh, 70, said that he thought the cycle lane was a good idea. "I don't think the speed bumps will do much though," he noted. "All people do is scream around between the bumps anyway. They certainly don't stop dangerous drivers."
Wendy Elliott, 44, a resident of Gowan Terrace, said that she welcomed the proposals. "A bike lane will be a great benefit to my kids and will make cycling the school run a much more attractive option. At the moment I just don't think the children will be safe on the roads, especially as people don't adhere to the 20mph limit on Osborne Road."
One taxi driver, who refused to give his name, said simply that the proposals "won't make a blind bit of difference" before heading to his next job. Cyclists will be hoping that other taxi drivers are more receptive, especially given the large numbers of cabs that use Osborne Road on busy evenings.