Young woman attacked in Jesmond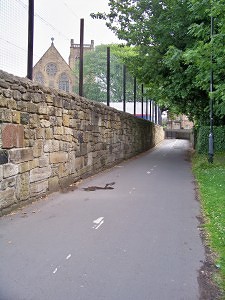 A young woman was attacked and mugged near Eslington Road, Jesmond on Friday night, JesmondLocal has learned. The 27-year-old student from Newcastle University, who wishes to remain anonymous, was attacked by two assailants who eventually made off with her bag.
The two alleged attackers trailed the victim on her way home from the city centre and attacked her near Jesmond Parish Church. The woman was dragged along the road while intending to protect her possessions. The assailants warned the international student to either let go or get hurt, before running off with her bag containing important personal documents and a small amount of cash.
CCTV footage showed two men following the victim before the  assault.
According to Northumbria Police, two men – Thomas Fear, of no fixed abode, and Darryl Dempsey, of East Sussex – have been arrested in connection with the incident. They have both been charged with robbery and are scheduled to appear in court.
The robbed student told JesmondLocal that she has been very disturbed by the incident. "Now I feel uneasy when approached by strangers… and I generally avoid going out late." But she later added that the local police have been very efficient and kind throughout.
The site of the crime is a residential area that encompasses several student dormitories and is generally considered a safe area. The victim recommends that people avoid walking alone at night but says she still believes Jesmond is a good place to live.