#HelloJesmond: Our favourite five flat-whites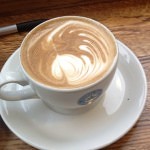 This week JesmondLocal is discovering the best and worst of the area as part of our #HelloJesmond week. Today, we reveal our favourite flat white coffees. Are we coffee conoisseurs, or are we talking a load of froth? Spill the (coffee) beans online, via email, Facebook or Twitter, using the hashtag #HelloJesmond.
It doesn't have a cinema. Its high-street fishmongers has gone for good. And it's just about to say sayonara to its sweetie shop.
But what Jesmond has in abundance is coffee shops – which is great if you're a caffeine-addict. So to help narrow down the choice, and at no little risk to our livers, we visited five Jesmond coffee shops in just one afternoon – Hugo's, Saints, Starbucks, Café 1901 and Central Bean – to discover who, in our humble opinion, makes the best flat white. (For all you tea-drinkers, that's a double-shot espresso served in a medium-sized cup, with milk folded into the drink and topped with a thin layer of micro-foam.)
Hover over each image below to read our verdict: