#HelloJesmond: Jesmond's Top Five Sandwich Destinations
Jesmond's coffee shops and delis have something to suit every taste. From good old British classics, to innovative flavour blends, Nelly Stavropoulou takes us on a gastronomic exploration of Jesmond's top five sandwich recipes. Feeling hungry? Good! Let us know your favourite sandwich combos on Facebook or Twitter using the hashtag #HelloJesmond.
1. Bacon butty – Café 1901
Looking for a good old classic with a continental twist? Café 1901's bacon butty is the answer! Enjoy the crispy taste of juicy bacon while relaxing on one of Café 1901's comfy leather sofas surrounded by a selection of mix-max furniture and vintage-inspired artwork. Located in Jesmond Methodist Church on St George's terrace, Café 1901 is the perfect destination for lunch or a change from the library environment, for yet another studying session- with a hot chocolate this time!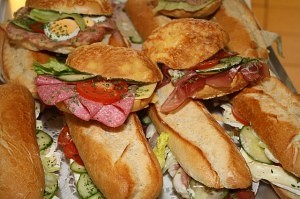 2. Bacon and brie – Delicious Decadence
Only a five-minute walk from Ilford Road Metro station, Delicious Decadence is a great spot to meet with friends or just an excuse to treat yourself with a homemade cupcake. A testament to Delicious Decadence's gastronomic indulgence is a combination of bacon and brie with cranberry sauce, in a warm, crunchy white baguette. Served with side salad, coleslaw and crisps, it's an ideal break from studying and a delicious recipe for 'food for thought'. For the hungry ones, a portion of smiley face pancakes served with warm maple syrup, will definitely leave a smile on your face!
3. The Italian Job – Fat Hippo Deli
Fat Hippo Deli's sandwiches are an example of everyday flavour alchemy. Conveniently located on Acorn Road and combining the easiness of a take away with the yumminess of a deli, Fat Hippo Deli offers a wide range of sandwich fillings. Try an Italian Job, with a texture of sundried tomatoes, breaded chicken, cheddar cheese and pesto mayo- all carefully nested in a seeded, toasted brown baguette. Bellissimo!
4. Love at First Bite – Dene's Deli
Want to consult a sandwich specialist? Dene's Deli's sandwiches will surprise you with their diverge, often intriguing unusual combinations. Bite into a Last Mango In Paris; a combination of creamy crab, tuna, and mango chutney. For the romantic ones, a nibble of Love at First Bite will leave you wanting more. Combining pepper salami, cream cheese and pineapple, it achieves just the right amount of spice with a fruity aftertaste. Why not make your sandwich experience even more romantic by going on a picnic in Jesmond Dene? It's just around the corner.
 5. Grilled Goats Cheese – Arlo
If you're looking for a quick bite with an ethnic flavour, Arlo Restaurant Café is the place to go. Bringing together flavours from New Zealand, Italy and South Africa, Arlo's recipes promise an exciting gastronomic experience. Located close to West Jesmond Metro station on Brentwood Avenue, Arlo's contemporary, Victorian-inspired deco, invites you to taste its Grilled Goats Cheese Bruschetta, filled with flat mushrooms, spinach and toasted pine nuts. A perfect vegetarian treat!