#HelloJesmond: Five weird and wonderful things in Jesmond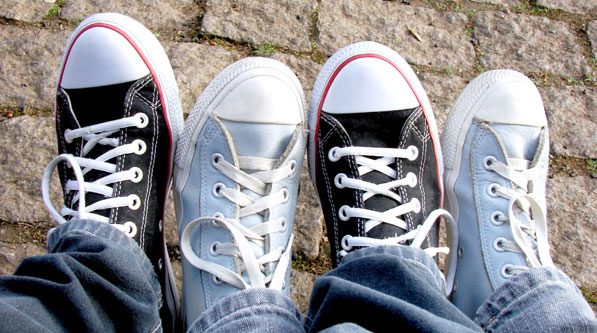 All this week JesmondLocal is looking at the best, weirdest and most wonderful parts of our area. Here, Nath Buck investigates the strangest, and most wonderful, things Jesmond has to offer. Do you agree? Have we missed something? Let us know on Twitter or Facebook, using the hashtag #HelloJesmond.
Jesmond isn't just about its shops, bars or restaurants. There are some strange and delightful things too. You may have seen or done a couple of these things already – but if you haven't – you're missing out!
1. The Shoe Tree
No one knows when or why it started. But this tree, sitting in Jesmond Dene (although technically part of Heaton), is covered in shoes. A sign at the bottom reads "The shoe tree is an old Sycamore, which reaches nearly 40 metres high. There are lots of different stories about how the shoe tree came about, but it is thought some time ago this fine, but ordinary tree became the shoe tree when young people celebrated the completion of their exams by throwing their shoes high into the branches. This has continued and there are now shoes of all different types, showing the fashion trends of the last 20 years. The shoe tree was made famous by the novel "The Taxi Driver's Daughter" by Julia Darling." It's so famous the council have to maintain it regularly in order to ensure the trees survival.
2. The Petting Zoo
Also sitting in the basin of Jesmond Dene is a fantastically wonderful petting zoo. Goats, pigs, ducks, hens, birds… etc. If you're looking for something different to do with your day that's absolutely free – then this is bleating fantastic! On a hot sunny day there's also an ice cream van. But don't feed the animals ice cream. Obviously. Speaking of ice cream…
3. Archer's Jersey Ice Cream
If a dollop of vanilla scraped out the back of someone's van isn't your style – then you might prefer a little stop at Jesmond's very own ice cream parlour. With 16 different flavours of the finest Jersey Ice Cream to choose from, you can be sure to slurp ice cream all year round – whatever the weather.
4. Karin's Kandy Store
Ice cream not your thing either? Don't panic! Gaze in child-like, Wonka-esque wonder within an old-fashioned sweet shop that's covered wall to wall with jars of sweets. Mix and match sweets from your childhood as you fritter away your pocket money devouring deliciousness! Get there quick though, it will be closing forever in the next couple of weeks.
5. Café 1901
A coffee experience like no other! Housed in an old church hall, relax in quirky comfort as you sip away at an expertly crafted latte whilst you're swallowed whole by traditional theatre seating and catch yourself staring in wonder at the unique surroundings that you'll simply just have to visit in order to know what we mean…