Jesmond's Apple Day leads up to local cider and beer festival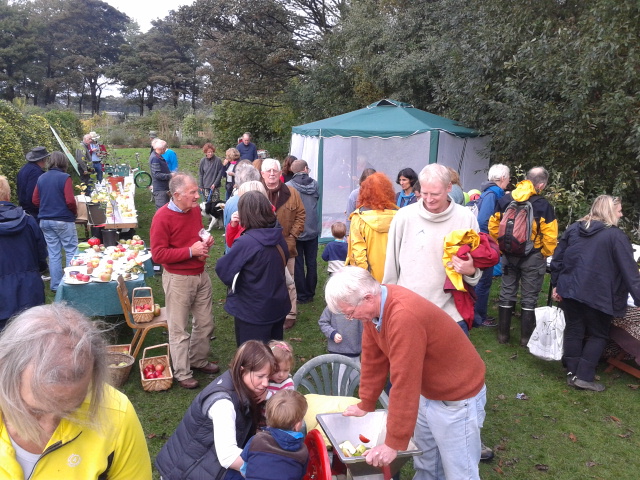 Over the weekend the residents of Jesmond celebrated the annual Apple Day at Jesmond's allotments. The event, which is supported by Jesmond Community Orchard, played host to experts in cider and juice making, all of whom helped visitors identify fruit plucked from their own trees.
Gil O'Connell, 74, who helped start up the orchard in 2009, said that the day was a real success. "We had a lot of young people come along which was brilliant," she said. "We hope today got more Jesmond residents interested. Many people were extremely responsive."
Fruit from the orchard, which O'Connell said had served as an inspiration for other similar projects around the country, was on display and available for visitors to try.
Fiona Clarke, 66, the treasurer of Jesmond Community Orchard where 150 families help tend to the plants, said that "the orchard is a demonstration project to show able to grow apples in north east. We really hope that people learn more about growing fruit; many don't understand that they can grow apples in pots in their gardens. They're not very demanding."
Carl Moffet, 39, a Project Director designer from Jesmond, said that the Apple Day helped bring the community together: "it really helps people learn about orchard and it is nice to get residents of different ages mixing together," he noted.
Meanwhile his daughter Sophie, aged 8, said that she had a great time. "It's a really fun event. I got to spend time with my friends and helped pick some really tasty apples."
Jesmond Community Orchard is always looking for volunteers to help with their work. Anyone interested in finding out more can go to their website, http://www.jesmondcommunityorchard.kk5.org/.
Scrumpy-diddly-umptious
But the apple-related fun doesn't stop there: from October 17th Jesmond Cricket Club, the CAMRA Real Ale Tyneside Club of the Year for 2013, will host its annual Real Ale and Cider Festival on Osborne Avenue. From 5pm on October 17th through to 10pm on Monday October 21st events celebrating real ales and ciders will be held.
A student-focused barbecue will cap off the festival on Monday night, with the chance to win more than 50 bottles of real ale, while on Saturday October 19th a curry at 6pm, followed by a festival-based quiz from 7:30pm, is open to all. 36 different drinks in all, many award-winning ales and ciders, will be served alongside fantastic food.
For more information, contact beer.festival@newcastlecc.co.uk, or ring 0191 281 0746.