Groundwork North East Launches Project to Monitor Air Quality
Local environmental group Groundwork North East has  launched an "air quality project" with the backing of Newcastle City Council.
The two main objectives of the project are to monitor and map air quality levels across the city – especially nitrogen dioxide levels – and to decrease pollution and increase well-being by encouraging good practice such as cycling and the use of public transport.  James Prime, EBS advisor at Groundwork, spoke to JesmondLocal about the project, which stems from an earlier council-led pilot project.
The project is being carried out on a community level and Groundwork would like to involve all 26 wards of the city, spanning more than 100 sites. Currently 22 wards including Jesmond are participating across 82 sites.  In order to monitor the levels of pollution Groundwork are looking for volunteers to host a small tube fitted on a drainpipe, a window or any other surface that can capture air particles.
In Jesmond there are currently five or six volunteers in total, with hopes for another four to six volunteers in both North and South Jesmond. Each ward has an air quality mentor who will collect the results on a monthly basis, with Prime acting as the mentor for the Jesmond area. The results are then sent off to Newcastle University for analysis.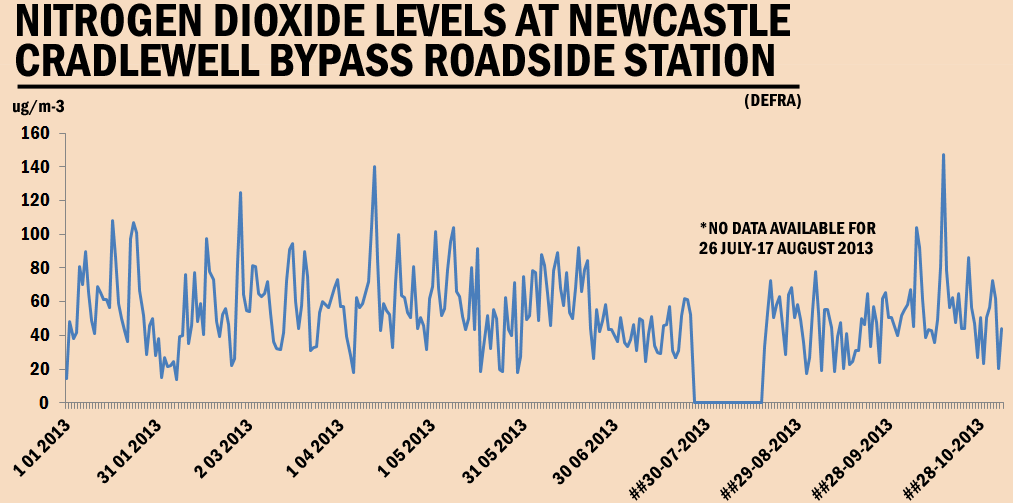 Alongside the air quality project, Groundwork also held a workshop on air quality and sustainable travel on October 24th at the Beacon, Wingrove in the west end of Newcastle. This workshop included a survey on people's habits and the barriers preventing the decrease in pollution.
Groundwork hopes to host a further two of these workshops in North and South Jesmond and while no plans have yet been put in place, they are currently looking for a suitable venue to host the workshop in the coming two weeks. The project is due to last until March 2015 and while it is a simple concept, Groundwork are hoping it will be an effective indicator of pollution levels in Newcastle.