Food waste: how Jesmond stacks up
A new report released today by Wrap, a food charity, has brought stark attention to the issue of supermarkets' – and their customers' – attitudes to food wastage, particularly as household budgets shrink and purchasing power dwindles. The latest data shows that 4.2 million tonnes of food and drink are wasted each year in the UK – 60% of which is perfectly edible.
JesmondLocal has questioned national retailers and independent stores based in the area on their food management policies, to find out what happens to the unsold food stocked on supermarket shelves and sold at delis and restaurants in Jesmond.
Tesco, which brought the issue of food waste to a national audience, has since revealed that they have a national policy of donating their unsold food to the FareShare charity and local farms, and use unsold food as feedstock for fuel. Immediate measures over this issue are being discussed, a spokesperson said, and have been put into practice in some of their branches.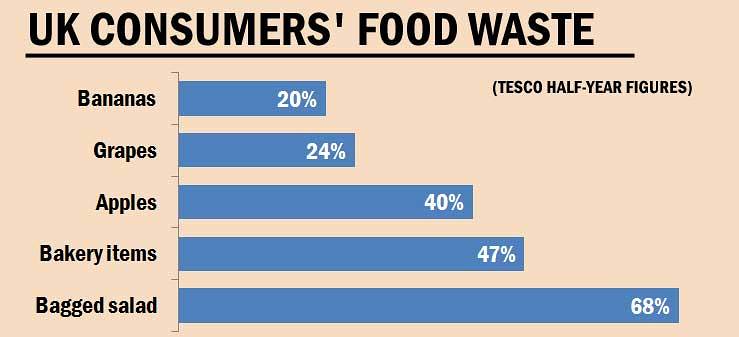 In-store, measures have been introduced to encourage customers to buy only what they need: bags of salads (68% of which was never eaten) along with fresh fruits are all going to be packaged in smaller bags with no 'display until' dates. "Our current aim is to make sure that customers would buy only what they really need instead of purchasing them just for the sake of the good offers" a Tesco spokesperson told JesmondLocal.
They would not comment on allegations made by Ellie Dowding, a JesmondLocal reader, that bins at the back of the Jesmond shop were caged and padlocked to prevent residents interested in freeganism, the recycling of food that would otherwise go to waste, from accessing unsold food.
The Fat Hippo, across the road from Tesco, revealed it has rewritten its menu to reduce reliance on food that had the potential to waste quickly, such as mushroom burgers and tuna steak. Extra chicken not used at the Fat Hippo restaurant is normally given to the nearby Fat Hippo Deli for sandwiches, reducing waste further.
"We have had chefs who had been working here, saying on how surprised they are over the very little amount of waste they have," said Michael Phillips, the manager of Fat Hippo. Phillips also revealed the Fat Hippo Deli would be donating money to local charities, and food to the homeless and elderly this Christmas.
Waitrose, located on Osborne Road told JesmondLocal they have sent no food waste to landfill since early October 2012. Company-wide initiatives, including using damaged fruit and vegetables in staff dining rooms and promoting weather-damaged products in their shops, also attempt to reduce wastage.
Bagged salad sold at the supermarket is perforated down the middle so customers can correctly portion their meals, using half the contents while keeping the remainder airtight and free from spoilage. Unsold items are routinely given to local charities such as the People's Kitchen and food banks in Heaton, while some is sent to produce green biogas through the 'anaerobic digestion' process, said store manager Rob Brewis.
Café 1901 on St George's Terrace carefully controls stock and production levels so that generally all their products are sold and consumed on the very day itself. Used ground coffee beans are recycled as fertiliser.
"We believe we can make a difference on a small level geographically as an independent quality coffee shop, said Ashna Boyers, the manager of Café 1901. "We support two charities, Street Smart and Destiny, who come in every Saturday to collect our extra food for the homeless."
With the number of families relying on food banks tripling in the past year, according to the Trussell Trust, a national charity, ensuring food goes onto plates, and not into bins, has become more important than ever – not just for retailers looking to feather their ecofriendly credentials, but for families struggling to remain above the breadline.