Jesmond Pool scheme aims to increase female participation in sport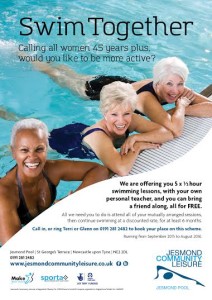 Jesmond Community Leisure's 'Swim Together' scheme continues to encourage participation in activity women aged over 45.
The scheme, which started in September 2015 and is funded by Sporta, a national association of leisure and cultural trusts, and Sport England, is part of a nationwide drive to inspire those who do not exercise regularly to get back into keeping fit.
'Swim Together' is aimed specifically at women aged over 45, a demographic that Jesmond Community Leisure duty manager Terri Sambrook claims is "really under-represented in sport at the minute".
The scheme offers five free half-hour swimming sessions, after which participants can buy a discounted swimming pass to encourage them to continue to stay active. The lessons are "tailored to individual needs", and can focus on developing specific skills and strokes, helping to boost confidence in the water or as a form of physiotherapy.
Jesmond Community Leisure is the only pool in the region to be offering this scheme, although Osprey Leisure Centre in Dorset and Tadcaster Swimming Pool in Yorkshire offer similar swimming-based exercise programmes.
Vanessa Collins, who took part in the scheme, described how she went from "not being able to get my face wet and being frightened of the water" to now being able to swim confidently, adding that she now comes to the pool at least once a week to swim. She told JesmondLocal that whilst over 45s in Jesmond are generally active, she believes that many people are not aware of schemes such as 'Swim Together' which are available on their doorstep.
So far the scheme has had over 50 participants sign up, but Sambrook says they hope to hit 200 before September of this year, when the programme is set to end. Due to rules set out by Sporta and Sport England, funding is only currently available for a women's programme, but a review of the scheme later this year may look at further funding and changes to possibly start a similar scheme aimed at men.