'Magic' Mark Potts remembered at West Jesmond Royal British Legion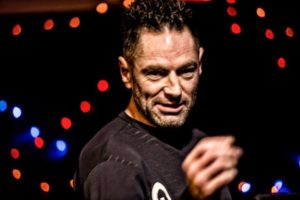 Friends of the 'Magic' Mark Potts paid tribute to the spoken word poet on 1 April at West Jesmond Royal British Legion bar and lounge. The benefit and memorial event took place four months after Pott's tragic death, aged 51.
Co-host of the performing group Perfumed Ponces, Potts died in the Costa del Sol, Spain at the end of last year. He is reported to have fallen from the third floor balcony of the Hostal El Cid in Fuengirola, which prompted an outpouring of tributes from his many friends on social media.
The atmosphere at the benefit was described as "more like a celebration of a life than a wake," with music and poetry, laughter, an open mic, and a small buffet donated by the West Jesmond Royal British Legion.
There also was a raffle with prizes donated by the guests, including a pair of Tyneside Cinema tickets and gift vouchers for a local record shop. All proceeds from the evening were given to Daisy, Potts' teenage daughter.
The event's organiser, Ettrick Scott, said the night was a success and thanked everyone for coming in a Facebook post the next day.
"If anyone wants a yardstick to measure how much Mark Potts was respected and loved in the circles he moved in, then consider this; every last performer I asked to play for no fee (and paying their own expenses) instantly said yes without hesitation, because they all wanted the chance to say goodbye to him," he wrote.
Performers at the lively memorial included regional acts JaZZ RiOT, Jess Johnson, and door-to-door poet Rowan McCabe, who is often found in the neighbourhoods of Newcastle offering free poetry to residents.
"I hope we did him proud; I think he would have loved it," Scott wrote. "For me, the best part of the night was the open mic spots, because that's where the love just shone out from the stage.
"We came, we partied, we laughed a lot, we raised a load of cash for Daisy, and, most importantly, we got to say goodbye."