New Café No32 Arrives at Acorn Road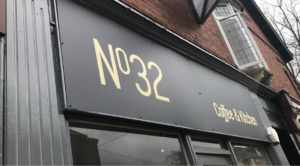 A new cafe will open on Acorn Road this month.
Having recently returned to Newcastle, No32 owner Karen Kevelighan has set her sights on "filling a niche" in Jesmond as she opens her premises in early April.
The coffee bar and kitchen will prioritise locally sourced produce, and intends to offer its customers a diverse menu featuring everything from croissants and cold pressed juices to adventurous salads and speciality coffee. Kevelighan also hopes to one day expand service into the evenings.
Kevelighan described No32 as "a long-term plan" which she hopes will "grow from the moment the door opens into a place of community".
She told JesmondLocal: "I want No32 to be a café where everyone and anyone feels a warm welcome. Music is a massive part of making that atmosphere of warmth. Each day we will have a playlist that will take customers through from morning until evening".
The cafe will also pride itself on its range of speciality coffees, having worked with coffee roasteries from around the country and endorsing Newcastle's own Storm Tea.
"We want everyone to come here and have an experience, and that's why we've worked with roasteries to ensure our filter coffee is as great is our espresso," she said. "Whether you're a resident or a student, we want the people of Jesmond to feel welcome."