Indian restaurant plans big new year after successfully defending trademark
The Dabbawal Indian restaurant, which has branches in Jesmond and Newcastle's High Bridge, has big plans to evolve in 2018 after it won a trademark battle with a soon-to-open restaurant in London that was to be called Dabbawala.
The two businesses were about to go to trial over the trademark when the London-based restaurant stepped down, deciding to take on the name Bombay Bustle instead.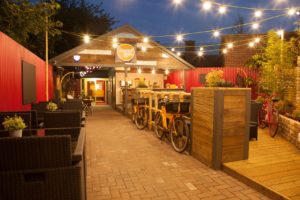 In Indian culture, a dabbawala is a lunch delivery man who picks up a home-made lunch from an a Indian household and takes it to a person at work.
Dabbawal restaurant owner Jaf Ali told JesmondLocal that Bombay Bustle "began to  call the restaurant 'Dabbawala' which is one letter different.
"The next thing, they served home-style food. It was all based on street food, all based on sharing. These are fundamentals to our concept. So they were doing everything that we were doing. We said to them: 'Look it's really great that you are marketing yourselves as the biggest export out of India and you're doing shared food, but you know what, we've been doing it for 10 years.' They didn't really have an answer to that."
Despite acknowledging the potential brand confusion, the London-based restaurant still wanted to keep the Dabbawala name.
"I don't want to disclose how much, but they did offer us a lot of money, which we said no to because money talks and anything is for sale," explains Ali. "We couldn't come to an agreement on that so they accepted defeat and changed the name."
A team of lawyers based in London have successfully argued that Dabbawal is a registered trademark established over a number of years.
The victory in the trademark battle allows Ali to focus on new year plans for the decade-old business.
"It's important that your business does not just rely on a three-week Christmas period," Ali says.
"It's nice to get the parties in, and it gets busy, but I think we've got a lot of things we're looking to develop in our business model for the longer term. Menus similar to this in other cities such as London or Edinburgh are doing so unbelievably well, they are so busy, but in Newcastle we are not as good as we should be with lunches. So that's the big challenge for 2018."