Streets for People consultation on Jesmond road future closes today
Today (November 30th) is the deadline for residents to submit ideas with the goal of making streets safer in Jesmond.
Streets for People's website has asked for public opinion on what work should be carried out on streets in their area – including Arthurs Hill & Fenham and Heaton & Ouseburn – by commenting under the details of the proposals.
There are seven suggestions to take into consideration for possible modifications in Jesmond. The proposals are the result of ideas collected last year following a survey about general viability in Jesmond, which Streets for People drew up with an urban designer.
Potential projects that figure in Jesmond's 'Neighbourhood Plan' include providing pedestrian crossings and safe cycling routes along Osborne Road, improving the road outside West Jesmond Primary School, adding continuous footways by the library on St George's Terrace and reducing the speed of traffic on Moorfield – among others.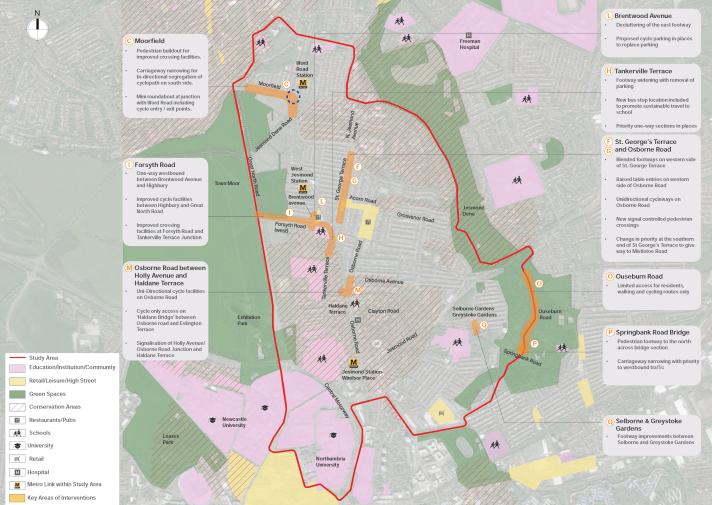 The Streets for People project is the result of a partnership between Newcastle City Council and residents living in three different zones of Newcastle.
One of the proposals presented in the 'Neighbourhood Plan' focuses on Forsyth Road. The plan proposes reducing parking places and "reallocat[ing] the space to provide cycling facilities on this popular route" and to "introduce a trial one-way system on the residential stretch of Forsyth Road between Highbury and Brentwood Avenue to address congestion and deter 'rat-running' through West Jesmond".
Crispin Welby, a resident in this area, told JesmondLocal that he is "a bit NIMBY [not in my back yard] with this".
"The idea of making Forsyth Road one way in the part where there are houses on both sides will not increase safety for anyone – especially not for cyclists, which is one of the two main objectives – as the street will be just as busy during school come-and-go times.
"If this is even marginally considered then all traffic must be one-way, including cyclists. This is not proposed."
However, Streets for People is open to the community's ideas and thoughts, which can be shared in the comment section under the relative proposals.
If you'd like to read and give your feedback on the plans proposed for Jesmond, visit Streets for People's 'Neighbourhood Plan' website page by clicking on the following link.