Nature gets a boost in Jesmond orchard
Jesmond Community Orchard Group will be holding a family activity afternoon on Sunday 14th March as part of the Jesmond Community Festival. As well as making bird and bat boxes, there will be opportunities to plant wild-flower seeds. Then at Easter there's grass seed to be planted to turn the site into a pleasant area for picnics and events.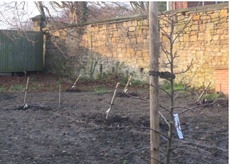 The soil is very wet after a long period of cold and rainy weather, so there's not much sign of spring at the orchard yet. But it's early February and some soft fruit bushes are ready to be planted, to add to the trees planted in December. A mix of raspberries, black and red currants, gooseberries and blackberries are going in this week, and a new almond tree promises early blossom.
This Glou Morceau pear (pictured) is the latest tree. New footpaths are also appearing, so there'll be no more need for boots in future.
For  more information see www.jesmondcommunityorchard.kk5.org.uk