New market sets out stalls in West Jesmond
Jesmond gets a brand new "arty market" this Sunday from 11am in the Royal British Legion's car-park. The "Mixer Market" is the creation of best friends Jo Hodson, general manager of The Cumberland Arms in Ouseburn, and Bev Fox, member of the Suggestibles comedy group and director of Jesmond creative company Magic If.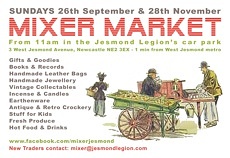 "I suppose we're trying to create the kind of place we'd like to go of a Sunday" says Fox, who admits to being a sufferer of 'Sunday Boredom Syndrome". A Jesmond resident for six years, Fox also grew up in Jesmond. "Jesmond is a lovely place to just wander. I remember the Legion used to hold the odd car boot sale in their car park back in the day, and I used to buy my Christmas trees from there too."
As a new mum, Hodson says she is always on the lookout for stuff to do that is family-friendly. The idea for the market came about when Fox and Hodson were sipping drinks one sunny Sunday outside the Legion in July. "We're really similar in many ways" says Hodson. "We're very sociable people and love to entertain. We run our own businesses, love hosting events and relish a challenge. But we've never worked together on a project before. You get to thinking 'Wouldn't it be good if …' and before you know it you're opening a market".
Both were involved in planning a benefit event to raise funds to transform the Legion's upstairs function room into an entertainment venue, The Mixer, which opened two weeks ago.
"The Legion members are extremely excited about the market," says Jon Farthing, Legion committee member. "Opening a market just seemed obvious, rather than leaving this huge, outdoor space empty," says Hodson. As well as organising the market, she will be operating her own handmade retro cake stand stall on Sunday.
Hodson has been busy recruiting market traders who frequent the Cumberland Arms, while Fox has been marketing the event on social networking sites. So far, visitors to the market can expect around 20 stalls selling handmade jewellery, bags, leather goods and pottery (plus plants to put in them), candles and incense, records, books and vintage collectables, retro woollies from the Naughty Knitwear Company, and cakes from Poor Girls Kitchen.
Fox and Hodson hope to the number of stalls for the second market which takes place at the end of November. Though the market is being held on the Legion's private land, Newcastle City Council will not grant licences to market operators more than six times within twelve months. The initial plan is to run the market every other month, but Hodson and Fox say they would like for it to go monthly, and ultimately weekly.
The Mixer Market opens at 11am on Sunday 26th September outside the Royal British Legion, 3 West Jesmond Avenue. For more details, visit the market's Facebook page or contact Jo Hodson on 07951 978 177 or by email.