It's Jesmond Apple Day – this Saturday
Tastings and "guess the apple" challenges will be among the events at Jesmond Community Orchard's second annual Apple Day, which takes places on Saturday 9th October from 12.00noon until 3.00pm.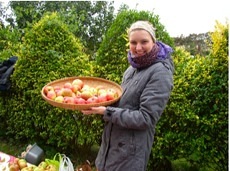 If you happen to have a mystery apple growing in your garden or allotment, apple expert Clifford Cain from the Northern Fruit Growers Association will be on hand to identify the variety for you. "Bring along three samples with stalks or leaves if possible," suggests the Orchard's Fiona Clarke, who says there will also be apple recipes to taste, the chance to make apple juice, story-telling, games and refreshments.
The event will take place on the West Jesmond Allotment site, located at the southern end of Highbury, but Clarke says visitors are also welcome to visit the adjoining community orchard in St. Andrew's Cemetery, where some of the activities will take place. Newcastle Transition Initiative will be helping with the organisation.
If you have surplus apples to give away, or want to participate in any way, call Fiona Clarke on 0191 281 0758.