Orchestra North East comes to Jesmond
Orchestra North East is bringing its latest concert to Jesmond this Sunday (10th October). This promises to be a popular programme which includes two pieces (The Lark Ascending and Five Variations on Dives and Lazarus) by Vaughan Williams, who based many of his works on English folk music.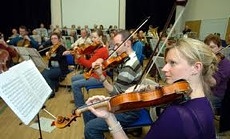 Another work by Smedley is entitled The Slipways from Dunelmia with its intriguing reference to Durham, and as a finale the orchestra will perform the well-known romantic Scheherezade by Rimsky-Korsakov.
David Murray will be the conductor, and Iona Brown the soloist.
The performance will start at 3.30pm in St. George's Church, and tickets are available from the SageGateshead box office (0191 442 4661) or St George's Church parish office (0191 281 1659).
All proceeds will go to support Orchestra North East and the Friends of St. George's, who are fundraising to renovate part of the church hall and improve the poor lighting in the main church – the church currently is so gloomy that the orchestra has had to hire in portable lighting so the musicians can read their music.
St George's is a Grade 1 Listed Building, one of the most significant buildings of its time in the country, and is open to the public every morning.  The Friends aim to encourage better use of the facilities by the community, as well as to preserve the heritage of the buildings.