Trick or eat?
Sink your fangs into something devilishly good this Halloween at your favourite Jesmond eating haunts. With so many tasty treats on offer at cafés and delis throughout the area, you will be spoilt for choice this weekend.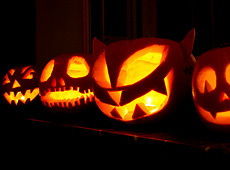 Café 1901, Dene's Deli and Mistletoe Bakery will be conjuring up a delicious array of spooky shaped biscuits, mystic muffins and cupcakes topped with ghoulish green and orange icing, all homemade from the finest ingredients.
Stewart & Co is catering for all your party needs and has everything to keep the children entertained, ranging from chocolates and sweets to pumpkins.
However, if toffee apples will just not do, and you want to make your Halloween party extra special, wow your guests with some bespoke cupcakes made to order from Fern Avenue Tearoom.
With the pumpkin carving about to start, many of you will be facing a conundrum about what to do with all the leftovers. But do not fear, we have collected a few suggestions from the people of Jesmond to get your creative juices flowing…
Most of you went for the old faithful pumpkin pie, or different varieties of pumpkin soup. Rachel told us to try pumpkin and coriander soup with crème fraiche.
There were a few mentions of honey roast autumn vegetables, and even a pumpkin curry. Peter was a bit more adventurous and went for pumpkin, apple and celery chutney – apparently delicious with cheese!
Whereas Callie, 7, and Natalia, 3, have kept themselves busy during half term week by toasting the seeds to make necklaces and bracelets… No excuses for leftovers!
Can you share any more tips on ghoulish gastronomy in Jesmond? Are there any creepy clichés that we've missed…? Please let us know in the comments below.
Photo credit: Richard Blakeborough.