Council leader trials 'decent neighbourhood' task force in South Jesmond
Newcastle City Council leader Nick Forbes praised Jesmond as an excellent example of a proactive and engaged community, in a session to launch the council's Decent Neighbourhood Standards initiative yesterday.
The scheme, first reported by JesmondLocal in January, is designed to involve local people in shaping a set of minimum standards they expect from their neighbourhood, relating to any aspects of local life they feel are important. The ultimate aim is to establish a "task force" that would be responsible for enforcing these benchmarks.
Jesmond residents and community groups who attended the afternoon session at Newcastle Cricket Club were told by Forbes that Jesmond was one of the first places he came to visit when he became council leader last year, and that he had been impressed by the community spirit of people here.
"When I took over, one of the first things I did was a series of walkabouts in neighbourhoods across the city," said Forbes, who described how he'd heard residents say issues they raised with the local authority were not being dealt with, while council officers did not consider many of citizens' concerns within their remit. He described the disparity between people's expectations and the council's attitude as "a tension within the system".
Forbes said that the aim of the Decent Neighbourhood Standards exercise should be to find ways to work around this tension. "There must be things we can do if we think creatively. The council must be willing to listen to people's suggestions and take them on board."
Jesmond Community Forum's Chris Clarke expressed optimism at the initiative: "It's welcome to hear Nick talking about listening to residents and communities," he said.
Drawing on his insight from his work with Jesmond Pool, which has now been running as a social enterprise for 20 years, Clarke shared his thoughts on how best to engage people in community activities. He emphasised the importance of focusing on tangible goals, rather than complex strategies.
In groups, residents discussed and wrote down ideas about what mattered to them in their neighbourhoods and how to involve locals in the scheme. One resident described how Jesmond was rich in "social capital" and that this was a useful asset for participating in neighbourhood initiatives.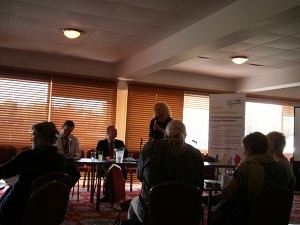 Council officers will now write up the ideas generated by the session and organise a second, evening meeting to decide how to proceed.
The consultation around Decent Neighbourhood Standards was first announced to Jesmond residents at the North Jesmond ward committee meeting in January and has been open to consultation ever since.