Church High Juniors donate school uniforms to Africa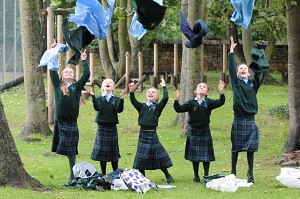 Pupils at Church High Juniors are embracing the Christmas spirit by donating their school uniforms to a nursery school, 4,000 miles away in the Gambia.
Teachers, parents and pupils came up with the idea in an Eco Council meeting, where they discussed how to prevent their old clothes from going to waste after the introduction of a new uniform. A year two teacher, Susan Drought, suggested working with a charity at Holy Cross Nursery School in Tranquil, Gambia.
Drought told JesmondLocal how the clothes will enable more pupils to go to school: "Providing the youngsters with these uniforms will greatly benefit their learning experience, developing their self-awareness and the feeling of belonging that comes from wearing the same uniform as your peer group."
Girls from Church High were also able to learn about school life in the Gambia through the project. Judith Cunningham, head teacher atChurch High Juniors, hopes this tie will develop into a "long-standing association" between the schools.