Metro flasher incident bucks trend of overall crime drop
Though there has been an 8% overall drop in crime in Newcastle, the number of sexual offences committed in the city has risen from 252 to 255, according to figures released by Northumbria Police. The data covers crimes committed between April 1st 2012 and March 31st 2013.
The rise in the number of sexual offences, bucking the downward trend in general crime, has been typified by a series of incidents earlier this month involving incident exposure in and around the Jesmond area.
Northumbria Police are investigating a man suspected of indecently exposing himself to commuters on two separate occasions within a week outside Ilford Road Metro station and West Jesmond station.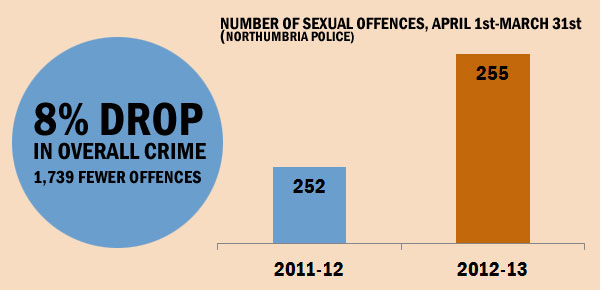 The police believe that the same person is behind the two incidents, which happened on April 1st and April 5th, between 7:10 and 7:20am as commuters were on their way to work. No description of the man was released, and police are appealing for witnesses to come forward and assist them in their investigation.
Inspector Caroline Ord of Newcastle Area Command said: "Enquiries are underway into these offences and we are looking into the possibility the incidents may be linked.
"No-one was injured as a result of these incidents but they have been left understandably shocked and upset.
"We are doing everything we can to identify the person responsible and officers will be patrolling the area to offer reassurance to the public.
As can be seen in our interactive map, sexual offences are not uncommon in Jesmond. Last December, another man exposed himself to several people in Jesmond Dene Park. No arrests were made and at the time police increased the number of patrol cars in the park. Later that same month, a 21-year old woman was sexually assaulted on Acorn Road by a man who had followed her from nearby Coniston Avenue.
People are advised to take precautions when alone, and if they know anything to assist police in their enquiries about any of the incidents described above, to contact police via 101 (extension 69191), or to call Crimestoppers on 0800 555 111.