Spate of Jesmond antisocial incidents ends in car fires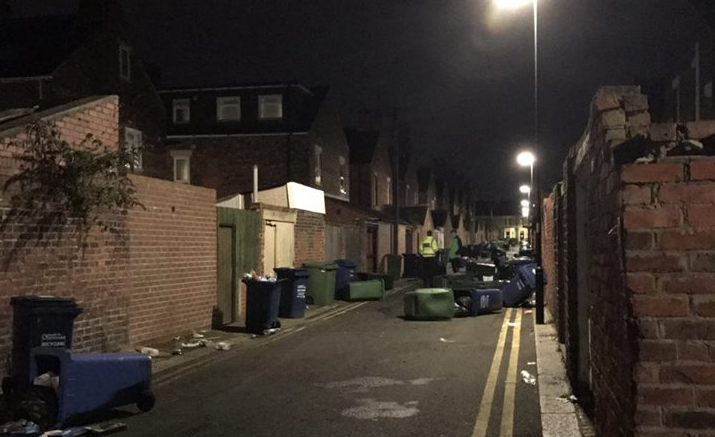 A number of antisocial events have taken place this week in Jesmond ahead of Bonfire night this weekend.
On November 2nd, between 11:15pm and 2:15am, Northumbria Police received three reports of fires inside cars parked in the Stratford Grove Terrace located on Deuchar Street and Warwick Street. Police confirmed that the fires were started after fireworks were let off inside the vehicles.
The fires were extinguished by local authorities but the cars were left seriously damaged.
"We think that the three incidents are linked and that the same person or group of people were involved for all three [incidents], said Neighborhood Inspector Steve Byrne. "It is completely reckless and mindless behavior that has caused thousands of pounds worth of damage and we are treating the incidents very seriously."
On the same evening at 9:30pm a JesmondLocal reporter saw Cavendish Place covered in overturned rubbish bins, pictured above. Wednesday evening is known in Newcastle as "sports night", when university sports teams go drinking.
Earlier this week a car on Sanderson Road was wrapped in aluminum foil, apparently as a student prank.
Student pranks in #Jesmond this morning… pic.twitter.com/RxRQ1jHV16

— Christopher Goulding (@GouldingChris) October 31, 2016
North Jesmond councillor Dan Perry told JesmondLocal earlier this week that antisocial behaviour this year was the "worst ever".
Police are investigating the fire incidents and officers are urging residents in Jesmond to lock their cars overnight and remove anything valuable.
If community members see anyone acting suspiciously near cars or attempting to open car doors, they should immediately report the behavior to the police.
Anyone with any information on the fire incidents is asked to contact police on 101 quoting reference number 1185 03/11/16.