Streets for People take action to make Jesmond roads greener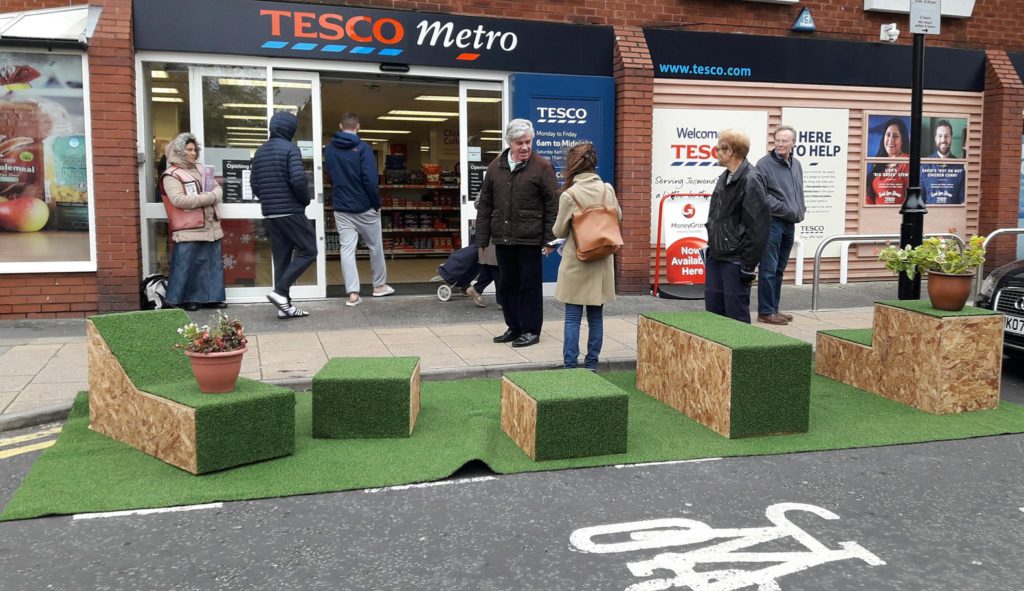 Streets for People, a group of local residents working with Newcastle City Council, greened Acorn Road for a short period on October 28th with "parklets" (small parks) and plants, arousing pedestrians' curiosity and raising the hackles of drivers and parking inspectors.
The "parklets", transported to the chosen location by van, were arranged around 10am on Saturday next to Oliver Bonas and in the parking bay in front of Tesco Metro.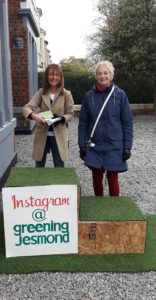 The scope of the initiative organised by Streets for People is to invite residents to help them beautify roads in Jesmond and to promote the Glorious Gardens competition, which will reward the smartest small terraced gardens with prizes for first, second and third place in May 2018.
Organisers Tony Waterston and Dawn Dunn handed out leaflets to people walking along Acorn Road, including packets of different kinds of seeds to encourage residents to plant them in their plots.
"Basically, we are promoting all this by having these – what we call – 'parklets' in two positions in the centre of Jesmond" said Waterston.
"They are like little parks with artificial grass on which we have put some plants. It's very, very much more pleasant for the environment if you have got growing things instead of cars and all this pollution."
Waterston told JesmondLocal that Streets for People took inspiration for the "parklets" from a lady who managed to set up a 'mobile garden' in front of her house in Hackney, London.
A similar "parklet" is already present in Fenham, near the local library. The organiser hopes that the large space next to Oliver Bonas will become a green space in the future too.
The plans to green Acorn Road lasted two hours, until a traffic officer asked the organisers to clear the parking lot in front of Tesco Metro due to some complaints by car drivers. However, the initiative intrigued  pedestrians who stopped to discover more about the project.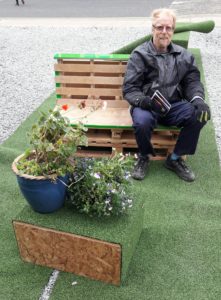 "It sounds like a good project, especially if it means that it will help make streets in Jesmond friendlier and more attractive," commented local resident Peter Hodgson.
Weather conditions did not live up to expectations and challenged the success of the initiative, however Waterston was left feeling confident by residents' reaction to Streets for People's project.
"There are not many people around, but I think that those who are here like the idea, they are having fun and I hope they feel inspired."
If you'd like to enter the 'Glorious Gardens' competition, simply send your name, address and telephone number to jesmond@jesmondresidents.co.uk by 28th April 2018. Closing date for entries is 11th May 2018.